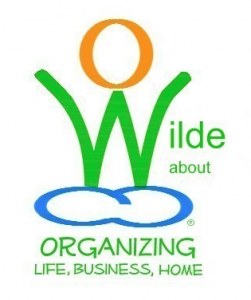 As I mentioned in my last post, I'll be blogging every other Friday now, rather than each Friday, as I'm writing two books and want to put more time into completing them sooner rather than later. 
The one book I'm creating is The Wilde Woman's Guide to Organizing in Five Simple Steps. I'm writing it by myself.
The other book is Healing from Grief. I'm writing it with a partner. Healing from Grief relates to The Wilde Woman's Guide to Organizing because the first of my five simple steps is to let go. It's my view that people sometimes have trouble letting go when organizing because they have unresolved grief issues.
When organizing, I suggest you start by identifying those physical, mental, and emotional items which you can let go.  And if you find you can't let go, but want to, need to, or "have to" for some reason, ask yourself:  Am I willing to begin letting go of the past? Am I willing to begin letting go and "surrendering" to wherever life is leading? Do I need all this stuff to get where I'm going? Is it time to approach life in a more simplified manner? 
I've found that usually when people are physically hanging onto items, they're also emotionally and mentally hanging on to the past (and usually have fear of the future). As you begin to let go, write and talk about what you're experiencing. Get it out, somehow. This is part of the letting go process.
I heard a very good metaphor: When two rooms are next to each other — one is lit and the other is in darkness, and they have a door in between — open the door and the light will flood in from the lit room to illuminate the dark one.
It is much the same with letting go.