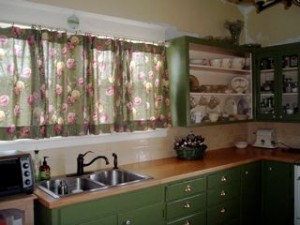 A few years ago I helped my sister, Linda, paint her kitchen. We did what you do when you paint – pulled everything out of the cupboards and drawers and put the contents into the next room.
We cleaned and covered and taped. Then we painted. After it was dry, as we put everything back, we organized it in a way that that was more deliberate. We paid attention to how my sister moved through time and space, and what she used most often. We put "like with like;" arranged things into clearly recognizable categories. It was more effective and functional than it had previously been. And we paid attention to the flow of energy – and created a beautiful environment. 
My sister loves to cook and stays busy as a home-school mom of three. The level of organizing we implemented supported her more effectively and really pleased her.
Thrilled with the changes, she asked if I'd help her organize her pantry, garage, and an armoire in which she kept art supplies. I told her I really enjoyed organizing and was happy to assist.
After we organized the other areas she declared, "You're really good at this! You should start an organizing business!" 
It struck me as an excellent idea, and my business, Wilde Services, was born. I use the slogan, Wilde About Organizing, because looking back over my life, I saw that no matter where I went and what I did – for about the last 20 or 25 years – I always looked at projects with an eye for how to organize them more effectively. Why? It makes life easier. 
Organizing is my strength – it's a gift that exists inside of me – may as well use it to benefit others.  
On my next blog post I'll explain how the coaching part of my business began.  
Thanks for visiting!