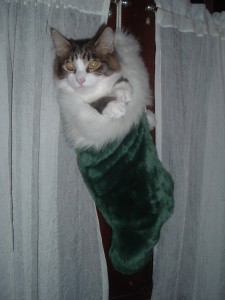 There are lots of reasons to take time now to organize for the holiday season…
Typically people find these items in various places around their home:
– Wrapping paper, bows and ribbons, holiday labels, tape, scissors, and various sized boxes.
– Holiday decorations they'd enjoy putting out and looking at again.
– Photos – to frame and display for guests to enjoy.
– Photo albums – to put on coffee tables and end tables, for friends and family to peruse.
– Various belonging to re-gift…
We're living at a time – especially with the economy as it has been – that people are more appreciative of items being re-gifted, re-used, and repurposed. Folks are greener than ever, and prefer re-using over sending things willy-nilly to the landfills.
One of my clients recently uncovered an item during our organizing session that she knew someone else could use and would appreciate. She felt inspired to pass it along and "upgrade" her situation with something new. The other person was delighted; it was a win-win. This is what taking some time to organize can do for you…
Also, taking time to organize your kitchen and pantry is especially helpful at this time of year. You'll learn exactly what items and tools you have on hand. This helps, so you don't end up with the last minute "Where is that thing?" syndrome over a serving bowl or hot plate. Taking time to organize for the holidays allows you to do more entertaining with less stress. 
In addition, a lot of times people find ingredients they can use (that they didn't know they had), and other items like holiday cookie cutters. Before you create your holiday shopping list and head out to buy things, be sure and take time to organize and so you know exactly what you have on hand. 
And take a few minutes to review your clothes. No doubt there are some fun and festive pieces you've forgotten about and would enjoy wearing again this year…. 🙂